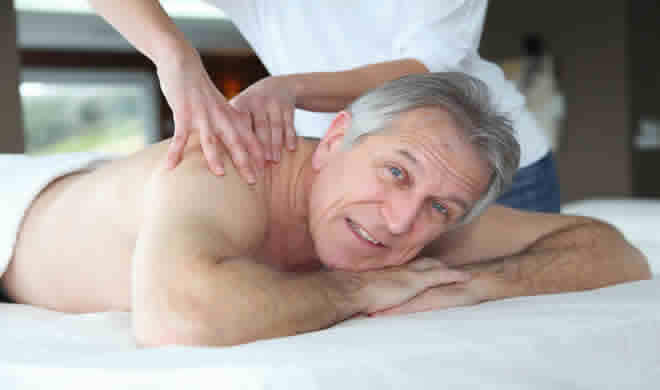 Crohn's disease is a condition that affects many individuals and causes a lot of pain. The symptoms range from mild stomach pain up to severe stomach pain along with diarrhea and more. Massages are the perfect therapy to help aid in the healing and controlling of Crohn's disease. Although massage therapy cannot heal the disease on its own, it is beneficial for those suffering from the condition to receive a massage coupled with proper treatment.
Massage and Crohn's Disease
Massages have always been viewed as a healing aid and element of any lifestyle. Many people seek out massages on a regular basis to provide them with relief from their stress and tension. A Swedish relaxation massage is ideal for helping with Crohn's disease because it helps to reduce a client's stress level.
Once the stress level is reduced, the symptoms of the disease will ease up some and provide relief. Your massage therapist should focus on the long and smooth strokes associated with a Swedish massage to achieve maximum results.
Massage therapy also helps those suffering from the disease a chance to be free from their pain. Massages are a great pain reliever and each individual will feel some relief from the chronic inflammation and pain that they feel.
Since massages help to get your blood flowing, you will receive relief from inflammation and pain as well. Your blood will stimulate the rest of your body to respond better and minimize the effects that you feel.
Lastly, massage will help alleviate any tension felt in the body, which will directly help Crohn's sufferers. The tension contributes to the symptoms of the disease by causing the muscles to tense up. A massage can help reduce the tension and get your organs back to working in harmony.
When Get a Massage
It is important for those suffering from Crohn's disease to get a massage when they feel comfortable doing so. The massage therapist should also apply light pressure on the stomach and stomach area to avoid causing any flare-ups.
It is also important to speak with your medical professional before you seek treatment while you are suffering a flare up. They may decide that it is not a good time for you to have one performed then and wait until the pain is gone.
Start Feeling Relaxed Today
You can head over to your local spa facility and receive a massage when you are ready. You will absolutely love the relaxing experience and will feel better about yourself.